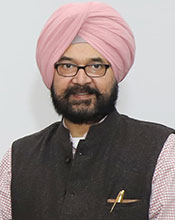 Prof. (Dr.) Jaspal Singh Sandhu
Vice Chancellor
Vice Chancellor's Message
In the on-going journey since 24th November, 1969, Guru Nanak Dev University has become an institution of iconic marvel in academics, sports, sciences having been conferred the status of "University with Potential for Excellence" by UGC and accredited at "A++" grade (highest level as per modified criteria) by NAAC. More than twenty departments of the University have received varied grants under UGC:SAP, DST-FIST and PURSE. The commitment to follow the path of success and our forte to strive for better shall definitely lead us towards grander zeniths. 

In addition to the green campus, excellent architecture, state-of-the-art infrastructure in well equipped laboratories, contemporary workrooms for research and teaching, facility of online admissions, online counselling for State Level Admissions, Credit Based Evaluation System, more than twenty thousand learners in various faculties at its Main Campus, four Regional Campuses and nine Constituent Colleges to its credit, there are certain essential philosophies and ideologies that ensure the lasting repute of Guru Nanak Dev University. 

We foster a desire for extraordinaire performance. We provide an autonomous work environment and as a result, many members of faculty and researchers have won prestigious international recognitions and major research projects from UGC. To sustain our pledge to fineness, the teachers and scholars have been given the liberty to infiltrate invisible disciplinary barriers, develop an understanding of society, culture and science to produce works that establish interdisciplinary relationship between science and literature, economics and environment, social science and linguistics, physiotherapy and psychology etc. Our expertise is highly sought after by the Government and many members of our faculty have been serving the Government of India in the highest capacities. 

Our Credit Based Evaluation System and a well-developed placement cell assure the continuity of learning process and employment security to our students. Grading, on the basis of students' participation and involvement in academic and co-curricular work throughout the semester, warrants continuous achievement both at undergraduate and postgraduate levels. Postgraduate students are encouraged to write short dissertations, term papers, research proposals and carry out assisted research projects to make them familiar with the higher level of investigation. A receptive and influential community of our national and international alumni bind us as members of a family. 

A few accomplishments like, MAKA Trophy for a record number of twenty two times, National Championship on cultural front for nine times, the North Zone Inter-University Cultural Championship for thirteen times, an amount of nine crores under the PURSE Programme from DST, Government of India, sophisticated instruments like NMR, TEM etc. worth more than seventy crores under different schemes as a central facility, are among many other milestones touched by the University on its humble march towards victory. 

The publication of our in-house research journals with high academic visibility and impact factor, various Memorandums of Understanding and collaboration with international and national universities for courses, research projects and conferences, specially designated 'Chairs', excellence in academic exploration, distinguishing faculty, and enthusiastic students are taking our university to higher peaks. My vision is to encourage a transparent culture in all fields that will enthuse in teamwork amongst all the members of the University and mine the best out of faculty and students. The aim is to reinforce the vein for exploration to achieve global distinction and excellence.
Prof. (Dr.) Jaspal Singh Sandhu
Vice Chancellor